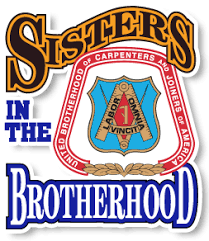 Mission Statement
The goal of Sisters in the Brotherhood is to create a network of active members that provides avenues for women to eliminate barriers to their success and to promote an increase in the number and diversity of women in the UBC. We advocate for member involvement to strengthen the union and for the unity and retention of all members.
Pre-Apprentice Program
The Buffalo and Erie Workforce Development Board, New England Carpenters Apprentice Training Fund and the Sisters in the Brotherhood, are launching The Pre-Apprentice Program, which can lead to a five-year apprenticeship program with the carpenters union allowing you to earn while you learn. The Sisters are particularly supportive of women and minorities who never thought about carpentry as a career.
Qualifications
Must be 18 years of age or older
High school graduate or equivalent recognized by local school authorities (Please bring a copy of your high school transcript, GED and/or college transcripts with you.)
Physically able to perform work (stand, lift, bend)
Reliable transportation to and from jobsites and school
Willing to submit to, and pass, a drug test upon acceptance
If applicant is a veteran, a copy of the DD-214 is required
If you are interested in the program and meet the qualifications, check out our information sessions to learn more.
Buffalo Preapprentice Session Flyer February 2018